Baggage Policy*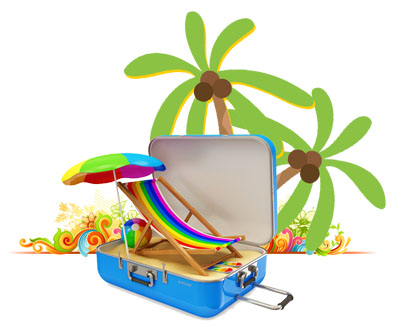 *For codeshare flights baggage allowance, please review Terms and Condition on CODESHARE FLIGHTS
VAL Check Baggage Allowance
FIRST STANDARD BAG UNDER 30LBS.
Maximum Size 22″x 15″x 9″ : Maximum Weight 30lbs. (13.5kg) : Charge Fee - Free
30 pounds include your carry-on bag and personal items.
FIRST STANDARD BAG exceeding 30LBS.
Maximum Size 35.5″x 29.5″x 16″ : Maximum Weight 50lbs. (22kg) : Charge Fee - $1.00 per pound of the excess of 30lbs
Any baggage, the weight of which exceeds the applicable maximum free allowance of 1 bag or 30 lbs (13.5 kgs), will be accepted for transportation only upon payment of the applicable excess baggage fees.
Checked Baggage
A checked baggage is defined:

• Maximum weight per bag is limited up to 30lbs. (13.5kgs.) and maximum linear dimension of 158cm (62in) per fare-paying passenger.
• Passengers are not limited as to the number of pieces to check-in as long as the total of weight do not exceeds 50lbs. (22kgs.).
• Our 30lbs. baggage allowance is complimentary.
• Linear dimension is calculated by adding together its' greatest outside height, width and length – wheels and handles included.
Overweight Baggage:

• Baggage exceeding our allowance, 31lbs up to 50lbs (14kgs – 22kgs), is subject to $1.00 per pound. If the baggage is more than 51lbs (23kgs) is subject to aircraft weight and space availability.
• In the event that your excess baggage cannot be accommodated, luggage will travel on a subsequent flight.
NOTE: Passenger is responsible for forward shipping expenses and arrangements.
Baggage Transfer
Vieques Air Link is not responsible of transferring baggage to other airlines on your behalf. When connecting to other airlines, you will need to claim your baggage upon arrival, and re-check it when you reach your next carrier.
Baggage Claims
Your luggage will be transported on conveyor belts and baggage carts and may encounter weather conditions such as rain, wind or sun light. It may move and shift during takeoff, flight and landing. Tag your bag with your information inside and outside. Please examine your baggage condition upon arrival. If the condition is less than what it was when you checked in, please report your concern to a customer service agent at our check-in counter before leaving the airport.
Traveling with Pets
• Must inform us you are traveling with pet while making a reservation.
• Vieques Air Link accept only one pet per flight.
• Pet charge is $15.00 each way. 
• Pet have to show good hygiene and travel in a proper hard kennel for safety reasons.
• Total weight of the pet and kennel may not exceed 30lbs. Pet kennel maximum measure is 26"X18"X17".
• Vieques Air Link provides kennel for an extra charge of $15.00
NOTE: Pet will travel on cargo area; not carry-on. Please refer to our Service Animal Policy for information about traveling with service animals below. Charter flights could be arranged on VAL availability to accommodate a passenger with a service animal that is too large.
Sports Equipment- Baggage Allowance
Fishing equipment

• We accept fishing equipment as long as the rod is encased.
• Must be packed in hard-sided case.
• A limited release tag is required.
Golf Bags

• We accept closed golf bags.
• Bag should be a hard-sided carrying case provided by Passenger, including clubs, balls, and shoes. Hooded golf bags or golf bags in a soft-sided carrying case provided by the Passenger will be subject to limited release.
Scuba equipment

• Scuba tanks should be empty.
• All accompanying equipment (e.g., BCD, weight belt, one regulator, one tank harness, one tank pressure gauge, one mask, two fins, one snorkel, one knife, and one safety vest) are encased together in a container acceptable to Carrier.
• The equipment have to be informed during reservations and will travel on space availability only.
FIREARMS – Regional Airports Policy

• Passenger is responsible to notify VAL in advance when making the reservation if he/she will be traveling with a firearm.
• Firearm must travel in a locked suitcase provided by the customer.
• The counter agent will visually inspect that all ammunitions are removed before accepting bags with firearm. Any ammunition will travel in a separate locked suitcase provided by the customer.
• Any On Duty official will travel under the On Duty Rules. The officer must inform when making the reservation that will be traveling on duty.
• Web Bookings, requires customer calls our Call Center 1 888 901 9247 to provide this information.
Wheelchairs

• We can provide you a wheelchair at the gate for arrival and departures, your personal wheelchair will travel as cargo on your same flight. You must request this when making your reservation and at the check-in.

NOTE: Unusually shaped objects: Large pieces or sporting equipment exceed the capacity of the compartments and are not accepted for transport.


Liability

Luggage is designed to protect its contents. Vieques Air Link, Inc. cannot be liable for minor exterior damage (i.e. scratches, scuffs, stains, dents, cuts and dirt resulting from normal wear and tear of baggage). We are gladly to transport your fragile items but we cannot accept liability for it. Please let us know in advance of any item you may be concern for extra caution and consideration.

For oxygen tank please refer to: www.faa.gov/about/initiatives/cabin_safety/portable_oxygen
Items prohibited on Vieques Air Link flights please see T.S.A. policy: www.tsa.gov/travel




Service Animal Policy

Service Animal Policy (14 CFR 382.55)

An animal may accompany a customer with a disability in the aircraft cabin, provided the animal can be accommodated without obstructing an aisle or other area used for emergency evacuations. If a service animal is disruptive or too large to fit under the seat or at the passenger's feet without encroaching on another passenger's space or protruding into the aisle, it will need to travel in a kennel (provided by the passenger) in the cargo hold. Verbal assurance that the animal is providing a service to assist with a disability will suffice should an inquiry be made.

Emotional Support or Psychiatric Service Animals

Emotional support and psychiatric service animals provide emotional support to an individual with a mental health-related disability. In accordance with the Department of Transportation, we require appropriate documentation 48 hours before departure to permit emotional support and psychiatric service animals to travel in the passenger cabin. To make arrangements for the transportation of an emotional support or psychiatric service animal, please call Reservations at 787 741 8331 at least 48 hours before your flight.

Requirements


• We require current documentation (no later than one (1) year from the date of the passenger's scheduled initial flight).
• The documentation must meet the following criteria:
• On letterhead of a licensed mental health professional including a medical doctor specifically treating the passenger's mental or emotional disability (e.g., psychiatrist, psychologist, licensed clinical social worker) stating the following:
• That passenger has a mental health related disability recognized in the Diagnostic and Statistical Manual of Mental Disorders-Fourth Edition (DSM IV)
• The passenger needs the emotional support or psychiatric service animal as an accommodation for air travel and/or for activity at the passenger's destination
• The individual providing the assessment is a licensed mental health professional and the passenger is under his or her professional care
• The date and type of the mental health professional's license and the state or other jurisdiction in which it was issued
• Plan to check in one hour before the check-in time for the general public for document verification.
• All of the above specific criteria must be provided to accept your emotional support or psychiatric service animal for travel in the passenger cabin. If all requirements are not met, the animal will travel as a pet in the cabin or cargo if space available. Reasonable rearrangements for a later flight could be consider or customer can arrange a charter flight.

Customer Service Department

If you need information regarding luggage or if there is something you need to transport, do not hesitate to give us a call and we will do our best to accommodate.

Email: contact@valairline.com

Fax: 787-741-0101